Squats
The safety pin height
Points to consider
No feelings of lower back pain. I think time and possibly the yoga moves are helping. I'm on day 6 of a 30 day 'challenge' now.
Used a weight belt, but didn't get a vid. When breathing into belly, I could feel the benefit
Although I've been taking deep breaths before reps, I'm now trying to breath more into the belly and then performing something like the valsalva maneuver on the way up. Still sometimes I take a deep breath higher in my chest. I think that I can feel a more stable lower back when I take the breadth in and hold it lower in my chest
Bench press
The safety pin height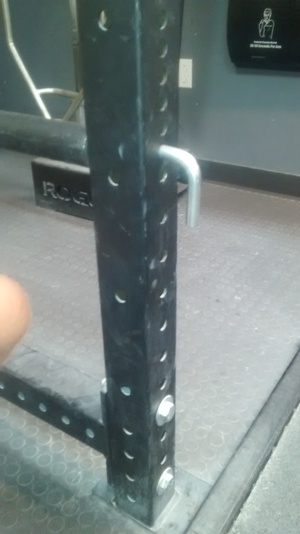 Points to consider
Sometimes I create a slight angle with my wrists meaning the wrist and elbow line is not perpendicular to the floor and I can feel that I am fighting the bar a little
I did a better job of touching the bar to the same spot on my chest which is just above my solar plexus
The slightly elevated angle view is nice for review.
The bulldog grip seems good to me as I felt no wrist pain during or after
Row
Points to consider
Review how it 'feels' to have my torso horizontal. My setup in the 1st set looked a bit too angled at first, but then appeared to have corrected after the first rep.
When setting up, it seems helpful to visualize having weight on my mid-foot and doing a little hip rocking to find that.
It seems tricky to prepare by squeezing glutes and abs because of the scrunched up form. Review the pre-rep recommendations on the stronglifts page about rows.